The new year always makes me want to redecorate.  Again, thanks to Pinterest, my head has been spinning with great ideas and Christmas gave me a good excuse to ask for some of the new things I'd been wanting.  
The kids'/guest bath has been looking pretty sad for a very long time.  I loved it when we first moved in, had a cute plaid shower curtain, vintage shelf on the wall and simple white towels.  Well, that got old last year and we found a gallon of mis-mixed paint for $5 so I let Hailey paint the walls a dark brown.  It was a great color, but seriously, what was I thinking painting a room with no windows such a dark color.  BAD MOVE!  We got a bright shower curtain but that just made things worse.  I've hated this room for a year. Before: 
See UGLY! 
I'm too lazy to paint it again, so I've been looking for decorating ideas that would work with the brown walls, but brighten it up a bit.  That's when I found these...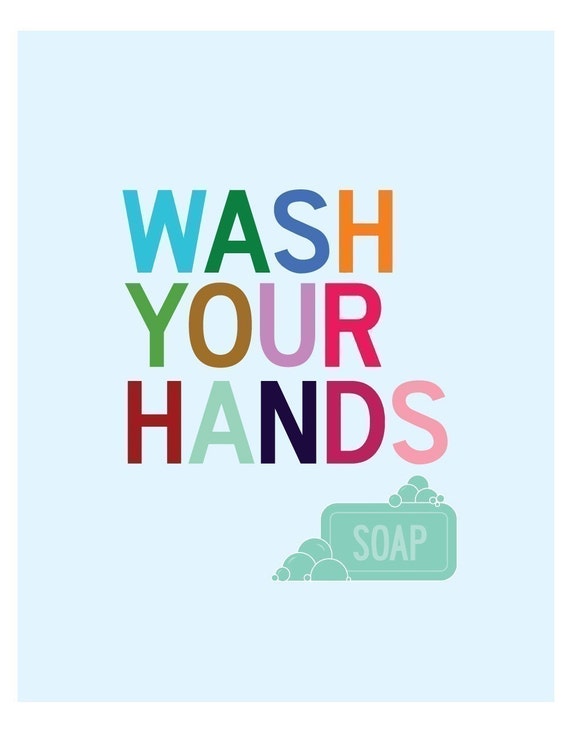 Seriously cute, but I knew I could make something similar with supplies I already had on hand.  So I came up with these:
I used basic cardstock and KI Memories chipboard letters that I already had to spell out the gentle reminders :).  I purchased frames from Costco (2/$20 - used the 4th frame for Home Sweet Home artwork).
The signs inspired me to include lots of bright color in the room, and I love the way it turned out.  Stay tuned... I'll be back tomorrow with the final reveal! :)